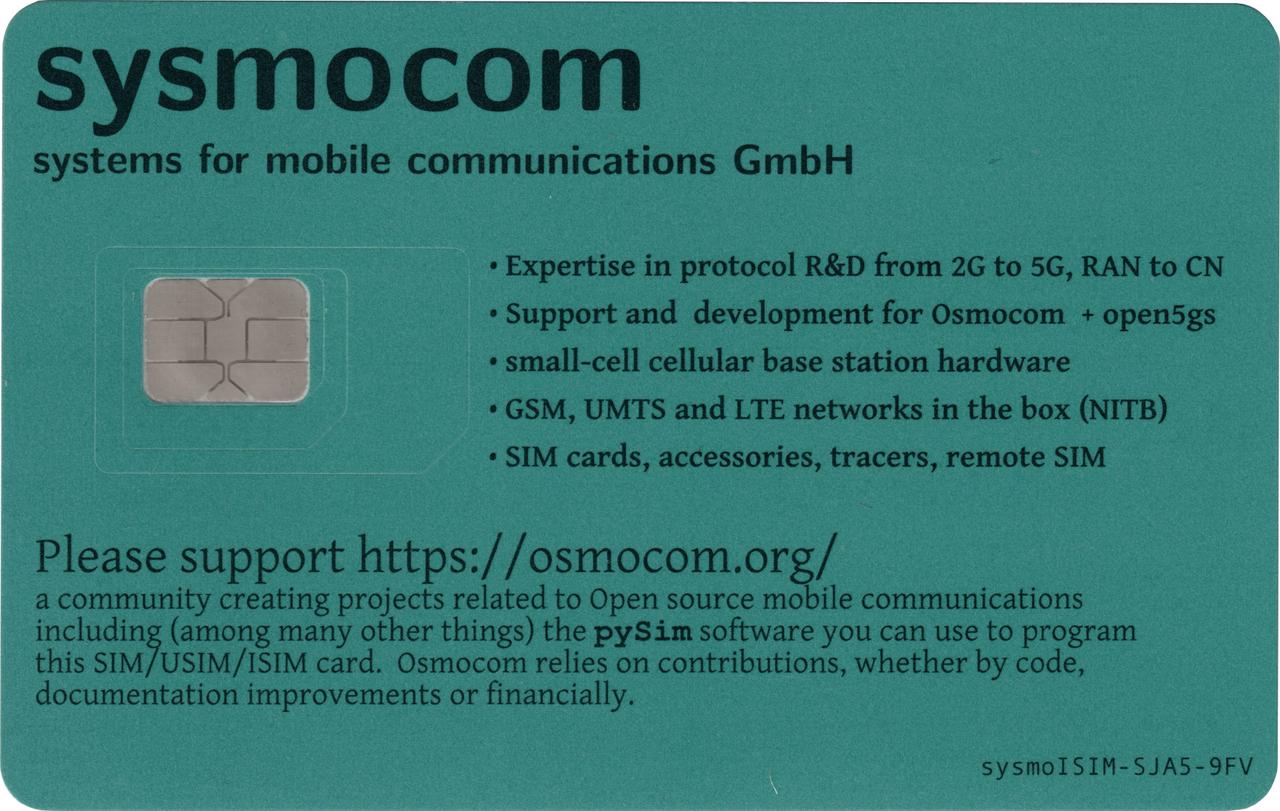 The sysmoISIM-SJA5 is an ETSI/3GPP standards-compliant SIM/UICC/USIM/ISIM/HPSIM card. It is intended for developers performing R&D of cellular technology as well as operators of small / laboratory or even private campus cellular networks.
It is fully programmable/customizable in the sense that you as the customer purchasing the sysmoISIM-SJA5 card receive the credentials to modify any aspect of it, such as
modify the contents of any file (EF) anywhere on the card (except EF.ICCD)

modify the authentication key material (Ki, K, OP/OPc)

select the authentication algorithm (MILENAGE, TUAK, COMP128v1/2/3, XOR-2G, XOR-3G)

deactivate/activate any service in EF.SST, ADF.USIM/EF.UST / ADF.ISIM/EF.IST

deactivate/activate any file on the card

deactivate/remove the application (e.g. remove the ISIM application turning the card into a pure USIM)

interact with the card remotely using OTA SMS and the provided OTA key material, using RAM (Remote Applet Management) and RFM (Remote File Management)

manage (install/remove/lock/...) applets in a card reader using GlobalPlatform SCP02
The sysmoISIM-SJA5 is fully up-to-date with 3GPP Release 17, which introduced many new 5G SA related files below ADF.USIM/DF.5GS.
The SIM card were originally intended for use with the Osmocom cellular infrastructure , but often also used with other cellular network infrastructure implementations such as open5gs, OpenAirInterface, srsRAN, Free5GC, Amarisoft or others.
For more information please refer to the user manual which includes a card specification as well as examples on how to use and re-program the cards using freely available open source tools.
NOTICE: This product is for operators of public or private mobile networks and the research community. As a regular subscriber of mobile networks, you cannot clone another identity to this card, as you do not know the secret identity (K,OPC) of your original card!
For quantity orders (1000 cards and up), we offer customized SIM cards with customer-specific profile and card printing.
2FF/3FF/4FF form-factor
The standard form-factor of the sysmoISIM-SJA5 is a full-sized (1FF) plastic-card with seamless 2FF (mini), 3FF (micro) and 4FF (nano) support.
The 1FF size allows you to easily insert the card into a normal full-sized chip card reader (for programming/personalization), while the 2FF, 3FF and 4FF option ensures interoperability with all generations of cellular phones.
You can purchase this form-factor in 10-pack via our webshop.
MFF2 form-factor
The sysmoISIM-SJA5-MFF2 is the same card/chip/OS/profile as the sysmoISIM-SJA5, but packaged as chip in ETSI MFF2 form-factor instead of the usual plastic card.
The MFF2 form-factor is a solder-type form-factor, meaning that the SIM chip is soldered directly onto the circuit board of your (typically M2M, IoT) product.
sysmoISIM-SJA5 in MFF2 form-factor is currently available for made-to-order volumes from MOQ-1000 upwards.