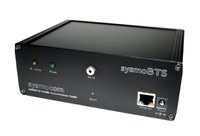 sysmocom is happy to announce today the availability of its sysmoBTS 1002 product, a small form-factor, low-power, quad-band GSM Base Trasceiver Station.
sysmoBTS 1002 applications range from indoor coverage for traditional operators to private GSM networks as well as remote locations such as oil rigs, disaster relief operations, as well as rural coverage. Using the field-proven OpenBSC software stack, it is not only able to function as classic BTS, but also able to run the BSC or even the complete core network (MSC/HLR/AUC) function inside the BTS.
Thus, using sysmoBTS 1002, it is possible to run a fully-autonomous small GSM network with voice call and SMS capability in less than 10W power consumption.
Unlike other all traditional BTS products, sysmoBTS 1002 is a quad-band BTS, permitting software re-configuration to any of the four GSM bands (850/900/1800/1900 MHz). It also covers the railway GSM (R-GSM) band.
To find out more, check the sysmoBTS 1002 product page or the data sheet.
Pricing information depends on your overall project / volume and is available upon request. Evaluation kits are available immediately.