Multistandard Mobile Network Simulator
(Download the Product Flyer)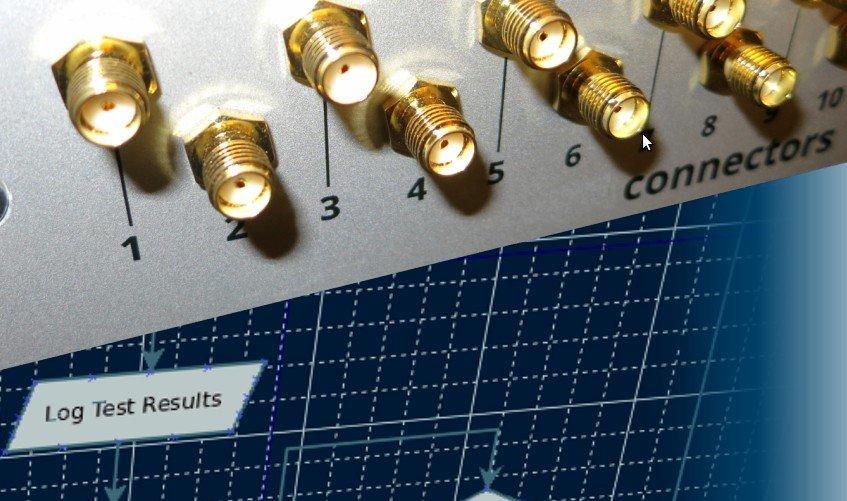 Integrators and developers of cellular network based M2M solutions need easy-to-use tools to test and develop their products.
A dedicated network simulator for testing provides:
deterministic test conditions (impossible to maintain with public operators)

simulation of ideal and/or specific network conditions (cell re-selection, hand-over)

simulation of error cases like weak signal conditions or network overload

full network-side protocol traces of the cellular protocol stack

The IoT² 608 is invaluable in developing secure and reliable M2M products.
M2M Solution Testing
Modern M2M solutions based on mobile networks (GSM, GPRS, EDGE, 3G, HSPA, LTE) often use cellular modems which are tested and pre-certified by the modem manufacturer for compliance with regulatory standards and/or protocol conformance. Still, manufacturers of M2M solutions need to perform a variety of tests regarding the electrical/RF integration, including antenna design. Reliability and Security of the application software need to be ensured for all scenarios encountered in various mobile networks the product may roam to.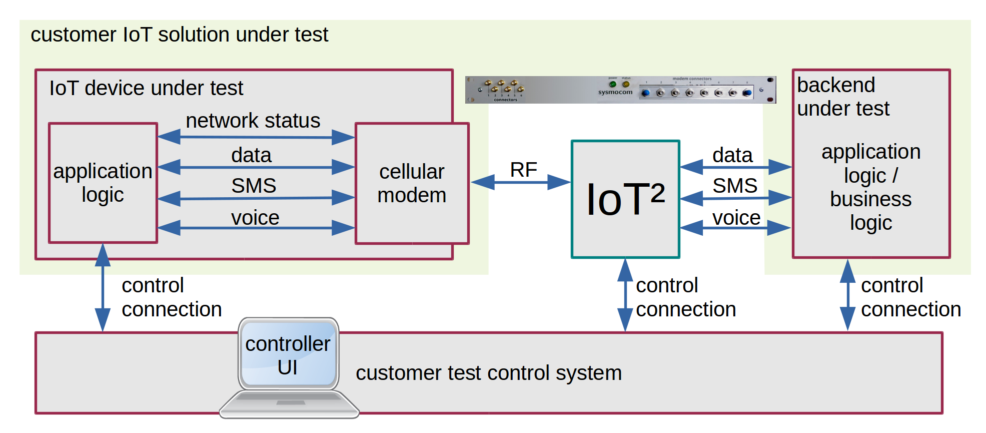 End-to-End Tests
While the electronic and RF design of a given M2M solution is fairly static and related tests could thus be performed once by external laboratories, the application software side is typically developed much more dynamically, with frequent updates across the product life-cycle. Testing continuously against simulated cellular networks not only speeds up development, but also allows to test against a much wider range of scenarios, leading to more robust, secure and reliable M2M product solutions.
Common test scenarios include:
Weak signal conditions at defined RF levels

Cell and operator change

Roaming to other Operators

wanted / unwanted SMS, Voice calls etc.

Availability of data services

Testing across all available cellular bands

Erroneous scenarios inside the operator, which lead to ceased or partially ceased services
Multiple Networks & Operators
The sysmocom IoT² 608 Internet of Things Tester provides a versatile solution to simulate the above network situations and many more in a complete automatable environment. Up to six network simulators are combined and controlled by a master controller. The master controller provides two separated mobile operator environments to simulate roaming and provider change. The signal level of each cell (network simulator) can be individually attenuated to arrange for a dynamically changing RF environment. The devices under test (DUT) can be connected either directly via coaxial cable, or be placed inside a RF shielded compartment for testing over the air interface. In order to self-test the system at any time, the master controller is equipped with an internal cellular modem.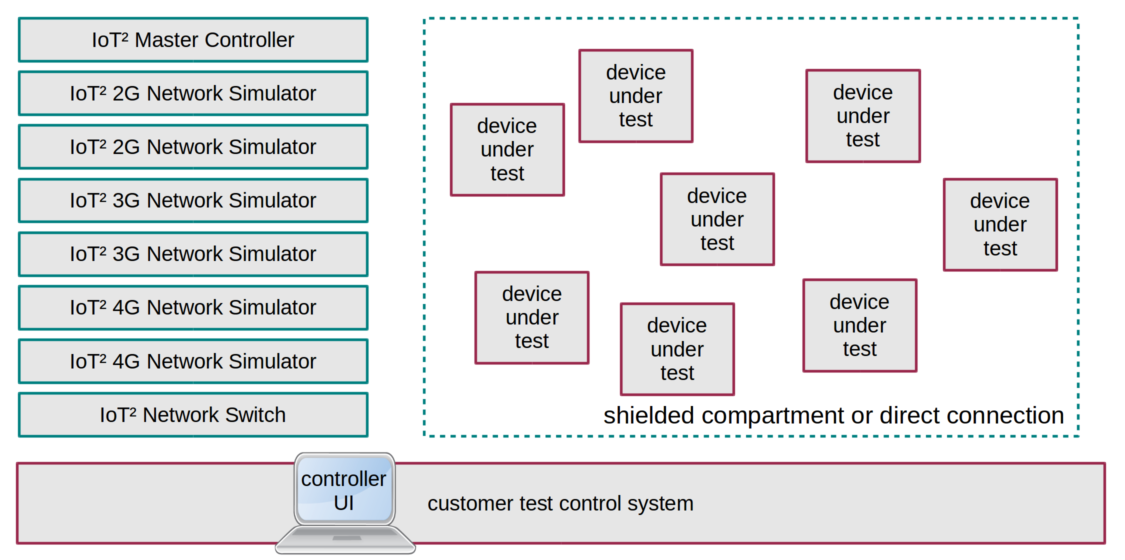 Web UI for Basic Control
A state of the art Web UI gives the engineer control over system setup, cellular network settings and logging facilities. Multiple configurations can be stored and recalled. A status screen shows the main settings and system status at a glance. Scripting API
For the development of automated tests and the control of the entire system, a versatile REST API provides commands for
mobile network settings

RF configuration & attenuation

Mobile data settings

Subscriber management

SMS functions

Voice call simulation

Logging
Flexible Setup
Matching your M2M application's maturity, you may start with a minimal IoT² system configuration consisting of only three modules (master controller, one network simulator and network switch). This setup can be expanded at any time with additional network simulators, to cover further cellular standards or more complex test scenarios as needed.
Available Components
| Short Form | Description |
| --- | --- |
| IOTTMC | Master Controller |
| IOTT2G | Network Simulator 2G |
| IOTT3G | Network Simulator 3G |
| IOTT4G | Network Simulator 4G |
| IOTTSW | Network Switch |
| IOTTDR | Desktop Rack 19" |
All components are in 1U 19" form-factor with shallow depth and could be ordered as a complete testing unit in a 9U Desktop Rack (other cases for higher mobility on request).
Technical Data
Common Features
Dimensions: 19" 1U 265mm depth

Power Supply: 110-240V AC
IoT² 608 Master Controller
6 x attenuable connectors for network simulators

Attenuation range approx. 31.5dB

1 master RF connector for shielded compartments or

8 x RF connectors for cabled devices

serial connector (SUB-D9)

3 x Gigabit Ethernet connectors

2 independent mobile network setups

built-in reference modem

Web UI

HTTP REST API for M2M control
IoT² Network Simulator 2G
GSM 850/900/1800/1900 quad-band

1 TRX / 8 timeslots

Timeslot configurations: CCCH, CCCH+SDCCH/4, SDCCH/8, TCH/F, TCH/H, PDCH

Ciphering: A5/1, A5/2 and A5/3

Data: GPRS PCU with limited feature set. Initial EDGE implementation.
IoT² Network Simulator 3G
IoT² Network Simulator 4G