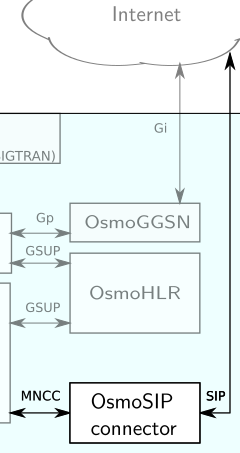 The OsmoSIP connector is the modern gateway between the MNCC Interface of OsmoMSC and an external SIP trunk. It converts between GSM TS 44.007 MNCC primitives on the one hand side and SIP messages on the other, while also signaling the RTP IP/port parameters for the voice user plane. Integration with a softBBX like Asterisk or Yate is a snap.
Like all sysmocom cellular network infrastructure elements, OsmoSGSN can be provided either in source code format (C code for Linux), as binary packages for Debian and Ubuntu GNU/Linux distributions. Upon request, we can also prepare packages for other Linux distributions or container images, e.g. Docker or Kubernetes.
sysmocom is offering different support levels for the Osmocom based cellular network elements. This gives you the trust to get support to your needs in the most effective and economic way.
Software / Logical specification
| | |
| --- | --- |
| Call Control Handler Control | GSM TS 44.007 MNCC |
| External PBX connection | SIP |
| Operating System | Linux |
More technical information can be found on Osmocom.