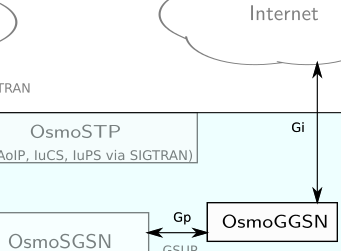 OsmoGGSN is an implementation of the GPRS Gateway GPRS Support Node (GGSN) for both 2.5/2.75 and 3G/3.5G networks. It is connected to the internet (aka PDN) via Gi and interfaces to the SGSN with the GTP-based Gp interface from the SGSN, such as OsmoSGSN.
Like all sysmocom cellular network infrastructure elements, OsmoSGSN can be provided either in source code format (C code for Linux), as binary packages for Debian and Ubuntu GNU/Linux distributions. Upon request, we can also prepare packages for other Linux distributions or container images, e.g. Docker or Kubernetes.
sysmocom is offering different support levels for the Osmocom based cellular network elements. This gives you the trust to get support to your needs in the most effective and economic way.
Software / Logical specification
| | |
| --- | --- |
| SGSN interface | Gp with GTP according to 3GPP TS 29.060 |
| HNBGW interface | Iu-CS and Iu-PS over SIGTRAN (M3UA or SUA) |
| PDN interface | Gi |
| Operating System | Linux |
More technical information can be found on Osmocom.