Introducing sysmoBTS 1002 (data sheet)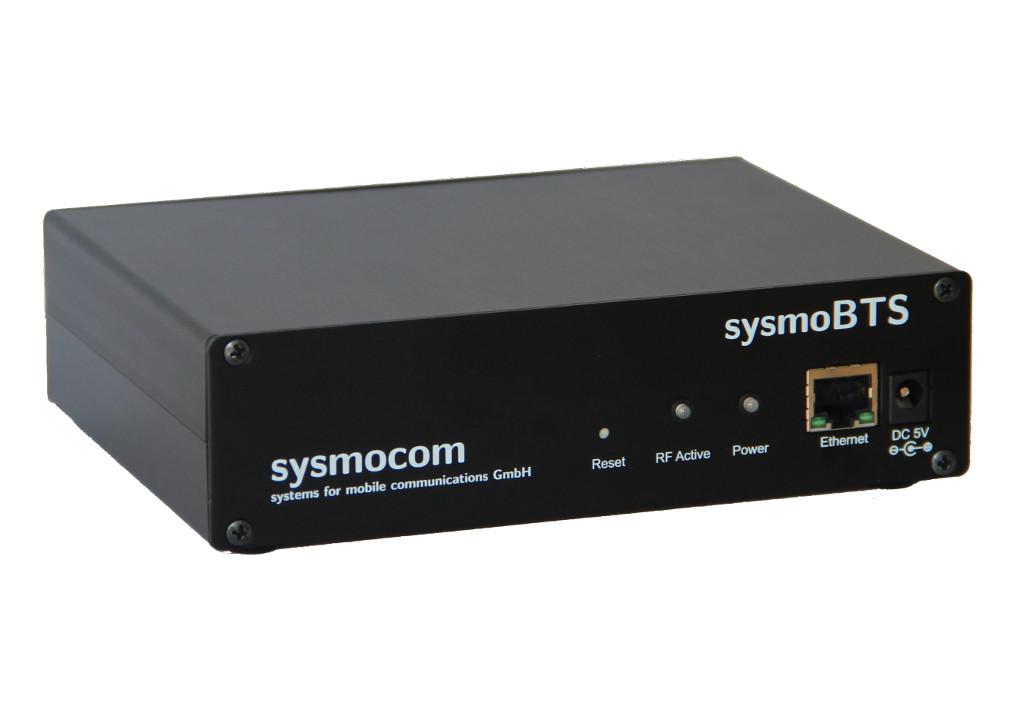 The sysmoBTS 1002 is a new low-power, small form factor IP-backhaul GSM BTS. It offers supreme cost efficiency and is suitable for a wide range of applications, including:
Rural cellular networks in lowest-ARPU regions

GSM related research and development laboratories

Production testing of GSM/GPRS terminal equipment

Rapidly deployable GSM networks

Private GSM networks (PBX style use)

In-building coverage/capacity extension

Remote area GSM deployments, utilizing any IP-based satellite back-haul service
Benefit from sysmocom's world-class experience in all areas of cellular networks from RAN to core network, permitting flexible integration of other network elements like BSC into the BTS itself.
As the only BTS world-wide, the sysmoBTS 1002 permits you to run a completely autonomous small GSM network from within the BTS. No external BSC/MSC/HLR/VLR required!
sysmoNITB 2G starter kit
Like most GSM network components, the installation, configuration and operation of GSM networks requires some know-how on GSM networks and protocols.
In order to ensure the best possible customer experience, we are offering a sysmoNITB 2G starter kit which is our turnkey solution. Just unpack it, power it up, insert SIM cards into phones and run your own single-cell autonomous network. The starter kit includes a fully pre-configured system with 10 SIM cards as well as indoor antennas and four hours of remote support for configuration and installation.
Mechanical / Electrical specification
Dimensions of enclosure (W x H x D)

165 x 125 x 59 mm (indoor / table-top enclosure)

Dimensions of PCB assembly

160 x 120 x 40 mm

Weight

650 g (with metal enclosure), < 200 g (PCB assembly)

RF Input (SMA)

GSM 850/900/1800/1900 quad-band uplink band

Sensitivity: -109 dBm (exceeding 3GPP TS 05.05 pico TS requirements)

RF Output (SMA)

GSM 850/900/1800/1900 downlink band

Max. output power:

(850/900): 23 dBm GMSK, 20 dBm 8PSK

(1800/1900): 23 dBm GMSK, 20 dBm 8PSK

CPU / SoC

TI Davinci (ARM926 @ 405 MHz + DSP @ 804 MHz)

Input Voltage

5 V (DC), power consumtion: <= 10W (typ.), 13W (max.)

Cooling

Passive. Active cooling optionally available depending on customer-specific enclosure or environmental requirements

Internal Memory

128 Mbyte SLC NAND Flash, 128 Mbyte DDR2 SDRAM, microSD socket

Communications Interface

RJ45 Ethernet (100-Base-Tx)
Software / Logical specification
| | |
| --- | --- |
| Number of Transceivers | 1 TRX / 8 timeslots |
| Supported timeslot configurations | CCCH, CCCH+SDCCH/4, SDCCH/8, TCH/F, TCH/H, PDCH |
| Back-haul (Signaling) | A-bis according to TS 08.58 and TS 12.21, encapsulated over TCP/IP; Gb (NS/UDP/IP) for GPRS |
| Back-haul (voice) | RTP/UDP/IP with FR/EFR/AMR payload according to IETF and ETSI specs |
| Ciphering | A5/1, A5/2 and A5/3 |
| GPRS/EDGE | GPRS PCU with limited feature set. Initial EDGE implementation. |
| Max. concurrent calls | 14 (TCH/H on 7 timeslots) |
| Max. simultaneous SMS | 60 (7*SDCCH/8 + 1*SDCCH/4) |
| Operating System | Embedded Linux (Poky based) |
Available Options / Configurations
Hardware Options
Clocking: OCXO (default) GPS disciplined (option)

Antenna Duplexer

2W downlink PA and uplink LNA kit

Wall-mount enclosure

PoE power splitter (802.3af compatible)

G.SHDSL modem for 2-wire copper back-haul
Software Options
BTS-only (A-bis/IP interface)

integrated BSC (A/IP interface)

NITB: Fully autonomous GSM PBX

GPRS PCU with Gb interface

SDK for customer-specific applications on BTS